Olivetree Mandarin's Core Chinese courses for adults focus on practical Chinese and will gradually and systematically develop your listening, speaking, reading, and writing abilities. The courses consist of eight levels ranging from elementary to advanced.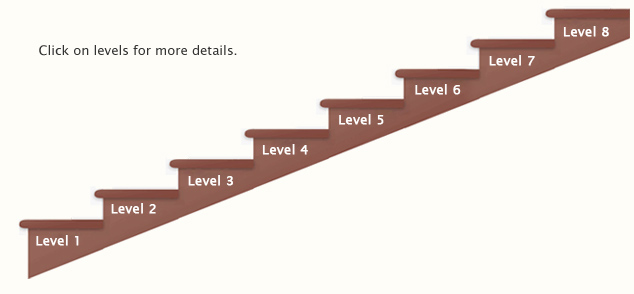 Level 1

 Elementary 1  [Understanding basics and simple survival Chinese]
Learn basic Chinese phonetics, tones, and spelling (pinyin) rules.
Master simple sentences on survival topics (self introduction, taxi lingo, directions, shopping, and ordering food).
Master some simple sentence patterns, including proper ways of saying thanks and farewells and knowledge of dates, time, and days.
Level 2

 Elementary 2 [Communicating in typical day-to-day situations]
Write Chinese syllables and master accurate pronunciation.
Understand and master typical day-to-day topics (nationalities, family members, work and professions, interests, hobbies and abilities, contact details, and communication with local housekeepers and security guards).
Broaden understanding of shopping and ordering at restaurants and pubs.
Master common grammatical rules and 80-100 sentence patterns through intensive exercises.
Recognize basic components of characters, including radicals and strokes.
Level 3

 Elementary 3 [Communicating in typical day-to-day situations 2]
Build on Elementary 2 to include other more specific topics (getting a massage, apartment hunting, means of transport, health check-ups, and household repairs).
Master around 200 sentence patterns.
Enhance your understanding of Chinese culture and traditions.
Recognize and write some Chinese characters used in daily life.
Level 4

 Intermediate 1 [Communicating in social situations]
Master typical day-to-day topics.
Expand vocabulary to facilitate social interactions and learn to differentiate among synonyms.
Understand important differences between Chinese and foreign cultures.
Extend Chinese character recognition and practice reading short texts.
Level 5

 Intermediate 2 [Communicating in social situations and introduction to situation-specific vocabulary]
Express your ideas logically and idiomatically ("start to think with a Chinese mind") and practice narration of more complex stories).
Learn some Chinese idioms.
Type and write articles expressing opinions and ideas.
Read long texts and gather information from different parts of a text.
Level 6

 Intermediate 3 [Polishing situation-specific vocabulary and sharpening communication skills within this context]
Express yourself fluently and accurately.
Broaden reading vocabulary.
Further understand Chinese idioms and their application in modern Chinese settings.
Further develop the ability to "think like a Chinese person" with exercises on spontaneous dialogue.
Level 7

 Advanced 1 [Objective is to be able to start watching Chinese films and reading the newspaper]
Understand a wide range of hot topics and current events and recognize implicit meanings.
Practice reading simple articles in Chinese newspapers.
Discuss Chinese social issues and practice giving your own opinion about these issues.
Understand complex texts with attention to small details.
Watch simple Chinese TV programs, TV series, and films with subtitles.
Level 8

 Advanced 2 [Expressing complex opinions on social issues and current events]
Learn about complex topics that appear in print, broadcast, and internet media.
Watch simple Chinese TV programs, TV series, and films with subtitles.
Sharpen understanding and interpretation of most all forms of written Chinese.
| | | |
| --- | --- | --- |
| | Sign up for a free trial now! | |